« Back to Events
This event has passed.
Event:

Appearance Day of Sri Locana Dasa Thakura

Date:

January 12, 2013 (Mayapur)

Category:

Updated:

September 22, 2012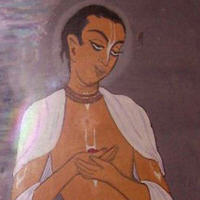 Sri Locana Dasa Thakura, a disciple of Narahari Sarakara Thakura, wrote many Bengali songs glorifying Lord Caitanya. His most famous poetic work is the Caitanya-mangala, a depiction of Lord Caitanya's life.
For:
Detailed Biography, Audio Lectures, Video Lectures, Gallery, ebooks etc. of Sri Locana Dasa Thakura – www.gaudiyahistory.com
Bhajans by Locana Dasa Thakura – www.vaishnavsongs.com