This calendar page highlights all important gaudiya vaishnava events that fall in current month. You can view events in upcoming months and years using the navigation below. Click on events for more details.
Ananta Caturdasi Vrata : Appearance Day of Padmanabha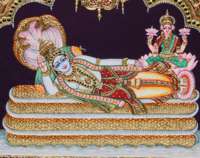 There are no indications that Gaudiya Vaisnavas perform any extra functions or austerities for this vrata.
The fourteenth day in the bright fortnight of the month of Bhadrapada is known as anantana vrata.The Lord Ananta Padmanabha is invoked in a pot filled with water and decorated with coconut and flowers. Special puja is celebrated with fourteen varieties of dishes.
Of all the vratas assigned to caturdasi, the Anantacaturdasi-vrata (Bhadrapada sukla caturdasi) seems to be the most important and widely observed. It is also called 'Anantapadmanabha-vrata'. Lord Visnu is believed to have appeared on this day as Padmanabha lying on the couch of Ananta (the thousand-hooded serpent).
Fasting till sunset
---
Here is a statement by Srila Prabhupada, ISKCON's Founder Acarya, wherein he instructed a vrata should be followed:
Prabhupäda: Yes. Bhaktivinoda Öhäkura 13th, and 14th Ananta Caturdasi and Haridäsa Öhäkura. So, this 

14th September

 should be observed fasting, whole day.

 Devotee: Fourteenth is the advent of or the demise of Haridäsa Öhäkura?
 Prabhupäda: Yes
 Devotee: The death, I mean the disappearance
Prabhupäda: Yes, but not for demise of Haridäsa Öhäkura, but because that is Ananta Caturdaçé Vrata, the, generally the fasting is observed till evening, up to 

5 o'clock

. The next day, Viçvarüpa Mahotsava, feasting. (11th March 1972 Vrindavana Room Conversation)
Please note that this vaishnava calendar displays the holy days according to the dates and times for Mayapur, India, the spiritual capital of Gaudiya Vaishnavas. At this sacred place Lord Sri Krishna appeared as Sri Chaitanya Mahaprabhu to mercifully deliver the fallen souls of this age of kali-yuga.