This calendar page highlights all important gaudiya vaishnava events that fall in current month. You can view events in upcoming months and years using the navigation below. Click on events for more details.
Events for September 1, 2023
Events Search and Views Navigation
All Day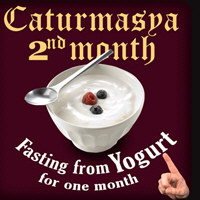 Second month: No yoghurt (if one requires it for health, it can be mixed with water) Caturmasya stands for 'four months'. It is the period between sayana and uttana ekadasis. The scriptures refer to this period as the duration of Lord Visnu's sleep in this universe. The main goal of observing Caturmasya is to decrease […]
Find out more »
On this day in 1965, Srila Prabhupada left Calcutta aboard the steamship Jaladuta. For: Detailed Biography, Bhajans, ebooks, Slide Show, etc. of Srila Prabhupada - www.gaudiyahistory.com Bhajans by Srila Prabhupada - www.vaishnavsongs.com
Find out more »
+ Export Events
Please note that this vaishnava calendar displays the holy days according to the dates and times for Mayapur, India, the spiritual capital of Gaudiya Vaishnavas. At this sacred place Lord Sri Krishna appeared as Sri Chaitanya Mahaprabhu to mercifully deliver the fallen souls of this age of kali-yuga.